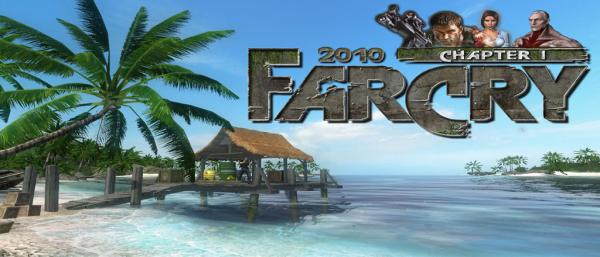 We are pleased to announce the online availability of
FarCry 2010 mod Chapter 1
! Before launching the mod, be sure to check the file
"Read Me"
included in the archive to find out the details and instructions.
Screenshots: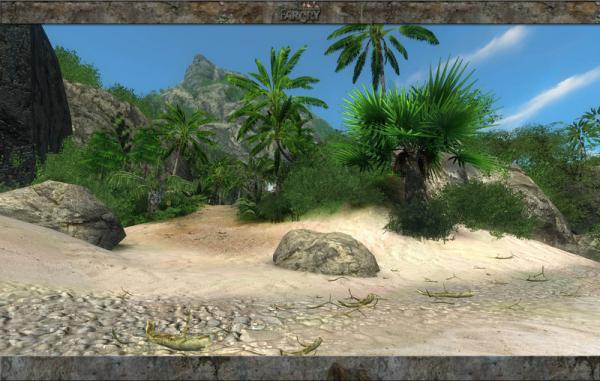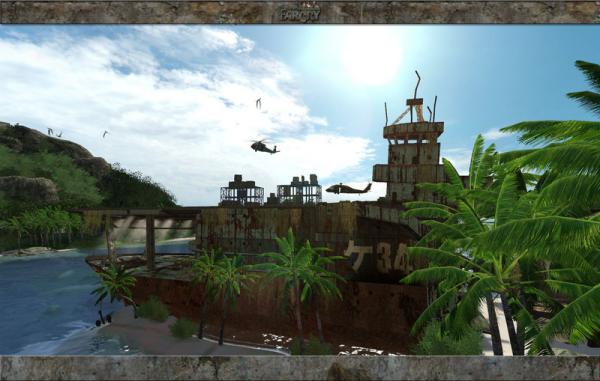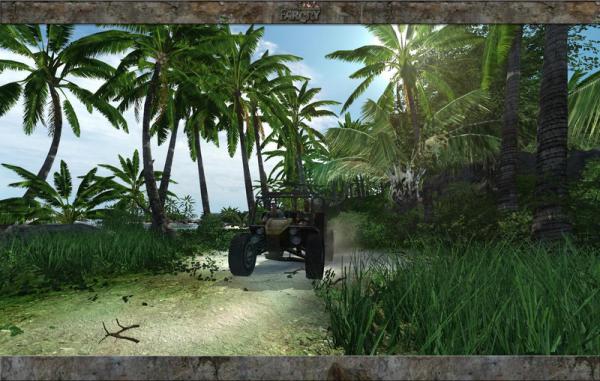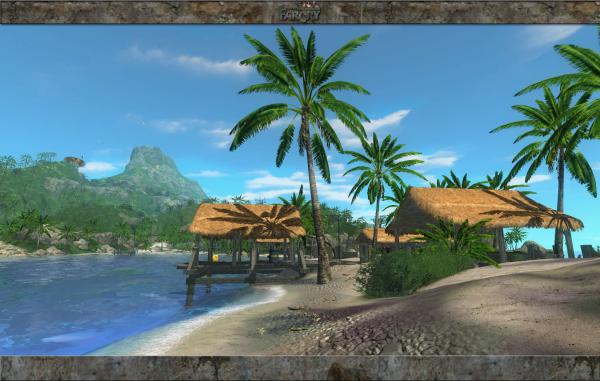 Several models of vegetation have been redesigned since the demo version.
These are more detailed and even closer models of Crysis.
But other elements of FarCry were also redesigned, for example the river at the first level Training has been designed for the current to follow the direction taken by the River.
This makes it more realistic, especially when a mercenary dies and falls into it, his body will be taken away and will follow the current.
The roofs of huts were redone to give more volume to them, if you see the feet of the docks, you will see foam at the water, textures bumpmap effects were applied to several objects, wall, aircraft wrecks, rocks, aircraft carrier, etc. ....
Things not originally intended for Far Cry 2010 have been updated as well as the remastering of the textures of vehicles, weapons and various objects in the resolution doubled and even quadrupled in some of them!
Tree leaves also have more realistic movements, plants receive shadows.
The mouth of the river in Training has been completely redone, you will notice the effects of water flow on the rocks. The interior areas have a greater effect of shadows dynamic, animated sequences in the (Carrier Level) of the press conference conducted by the Dr.Krieger has been modified and added another in Training (Sequence of the Medusa).
Have lots of fun!
Download
:
Posted by
Tnlgg
on Monday 15 August 2011 - 08:11:29 |

Comments: 1
|


You must be logged in to make comments on this site - please log in, or if you are not registered click here to signup
Latest Downloads
(Singleplayer levels:)

Dangerous Valleys
Author: Skaarj
Date: 17 Apr : 05:27
Filesize: 37.22 mb
Total Downloads: 36

---
(Singleplayer mods:)

Far Cry Operation Kriger
Author: Bert Masters Studio
Date: 17 Apr : 01:46
Filesize: 255.53 mb
Total Downloads: 76

---
(Singleplayer levels:)

SP Black Holiday Remake
Author: Vet
Date: 05 Oct : 03:40
Filesize: 203.68 mb
Total Downloads: 67

---
(Singleplayer mods:)

Black Holiday Remake
Author: Vet
Date: 30 Sep : 05:05
Filesize: 203.98 mb
Total Downloads: 71

---
(Singleplayer mods:)

Jungle Ring mod
Author: Dmitry Ghervas
Date: 30 Sep : 05:02
Filesize: 38.67 mb
Total Downloads: 49

---
This week's most popular downloads
Online
Guests: 5, Members: 0 ...

most ever online: 104
(Members: 0, Guests: 104) on 25 Feb : 16:35

Members: 2280
Newest member: anurag
Chatbox
You must be logged in to post comments on this site - please either log in or if you are not registered click
here
to signup

flybitten
I'm in England but will be in France and then Spain in August

Admer456
Mostar is much closer to me than Sarajevo. (since I'm in Stolac, but in Neum at the moment)
But instead of physically meeting each other, couldn't we use Skype instead? XD

Vikom
I will be in Bosna and Herzegovina tomorrow. Short stop in Mostar, then Sarajevo.


Admer456
I'm in Bosnia and Herzegovina, where are you?


flybitten
you can have it if you want, where are you

Admer456
Oh, that's a nice one, lol. Sadly, I'm not building a retro gaming PC.

Even though a 6600 is better than my Intel GMA 965. XD
(well, even the Voodoo 5 can compete with my GPU)

flybitten
yes its a GF 6600

Admer456
Out of curiosity:
What's the model? I mean "model" like GeForce 6600 GT.

flybitten
took out the 256mb nvidia graphics card that FC came free with if any body needs one, if they want to go RETRO!

Admer456
Ahhhhh! That's so sad.
Now I remember when my 2008 PC died in 2014. It was bought for me so I could play games, sort of like you bought yours to play Far Cry. (the PC before that one had an SVGA card, lol)

VET
Ahhhhh! lol. But you've had your money's worth.
My 2008 computer takes so long to do anything I rarely get it out. Same with my 2010 'gaming' laptop. Drive you crazy waiting.

Vikom
Ahhhhh! That's really sad.


flybitten
PC I bought in 2004 just to play FC, top of the range for the year, has died. all say Ahhhhh!

Admer456
So, I got this idea of making the terrain in 3DS Max and exporting it to Far Cry. I wonder if it would work well. I'd surely need one big-a** texture for that. Ah well, that's how they made GTA V anyway.
Also, I can't wait to return to Far Cry 1 modding, I miss it so much! All the .lua files, all the .cgf files I've made... man... like it was yesterday... Except fun_kobbl for CS 1.6 is in the way. xd
Also, have a nice stay in Croatia, Vikom.


Vikom
Greetings from Croatia.