We are pleased to announce the release of
Adventures of a volleyball mod Demo
!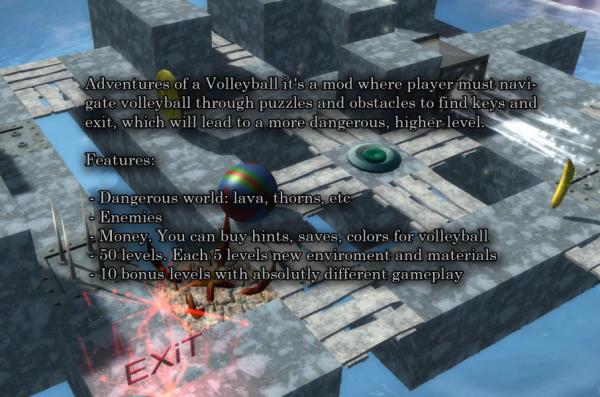 This is a mod where main hero is a volleyball.
Player must navigate it through a lot of puzzles and obstacles to find keys and exit.
- 10 worlds and 5 levels in each world.
- If you will find 5 fruits in world you will find a secret level.
- In game's shop you can buy color filters, extra saves, hints and other
Demo version (include 1 and 3 worlds) is almost ready, but I need a little help. My English is horrible, so I need someone who can correct all my mistakes in text. I attach it to this post.
Install:
Copy folder Bin32 from original FarCry to folder Adventures of a volleyball and run Bin32\FarCry.exe
Do not launch Adventures... as a mod! It may cause errors with some scripts.
Screenshots: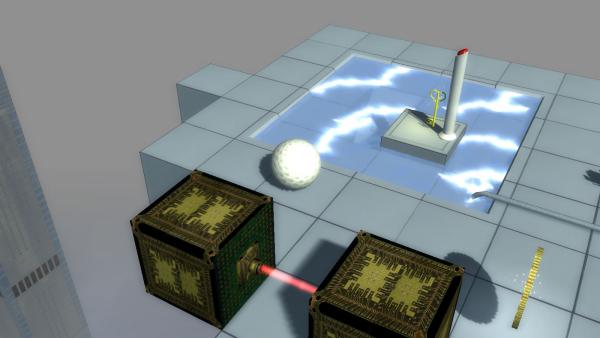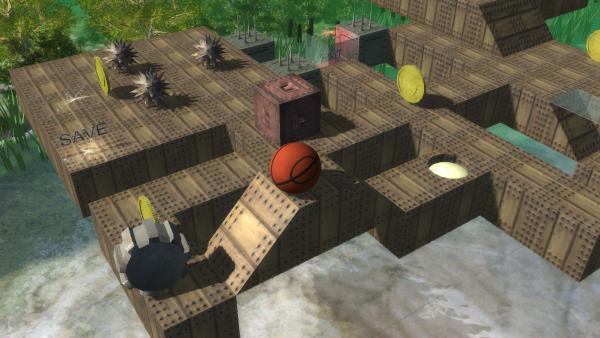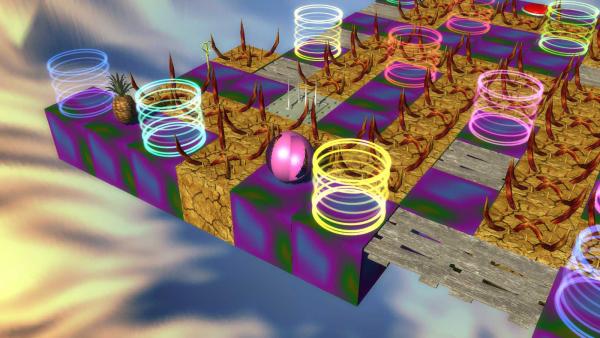 Have lots of fun!
Download
:
Posted by
Tnlgg
on Wednesday 21 August 2013 - 05:42:37 |

Comments: 0
|


Latest Downloads
(Singleplayer levels:)

Dangerous Valleys
Author: Skaarj
Date: 17 Apr : 05:27
Filesize: 37.22 mb
Total Downloads: 26

---
(Singleplayer mods:)

Far Cry Operation Kriger
Author: Bert Masters Studio
Date: 17 Apr : 01:46
Filesize: 255.53 mb
Total Downloads: 62

---
(Singleplayer levels:)

SP Black Holiday Remake
Author: Vet
Date: 05 Oct : 03:40
Filesize: 203.68 mb
Total Downloads: 62

---
(Singleplayer mods:)

Black Holiday Remake
Author: Vet
Date: 30 Sep : 05:05
Filesize: 203.98 mb
Total Downloads: 65

---
(Singleplayer mods:)

Jungle Ring mod
Author: Dmitry Ghervas
Date: 30 Sep : 05:02
Filesize: 38.67 mb
Total Downloads: 45

---
This week's most popular downloads
Online
Guests: 5, Members: 0 ...

most ever online: 104
(Members: 0, Guests: 104) on 25 Feb : 16:35

Members: 2269
Newest member: Trofimov316
Chatbox
You must be logged in to post comments on this site - please either log in or if you are not registered click
here
to signup

Tnlgg
Yes we are still going.

Long time no see.

Clivey
Happy birthday guys, glad to see your site going and the modding community still active.

Admer456
I'm at the prom right now, and it's not as boring as I had thought.

Vikom
About the map. It will take a longer time. It has a #1 priority among the stuff I create but I hang out every day, so I don't even have time to work with PC.


marekzi

Admer456
Happy birthday, CryMods. =)
Now, I found an article on how to integrate time-based physics instead of frame-dependent physics. Basically, if you have higher fps in Far Cry, you get a stronger physics force (just like I discovered with the Impulse with entities).
http://archive.is/jaHRy

VET
Crymods is 8 y.o. today, 23MAY2009 we opened for business.
Thanks to Tnlgg for continuing to host the site and pay the bills.


Tnlgg
A new sp map,good to hear.

Admer456
And congratulations, Vikom.

Admer456
I'm going to finish 9th grade (elementary school) by the end of May.

I don't have anything left other than a biology report, a test in Bosnian and maybe an oral exam in music class.
The class also had a 3-day trip to Montenegro, which started on the 17th of May.

Vikom
Thank you!
I've been thinking, maybe I could extend it. I'll give it a try.

VET
Congrats on graduating sir.
And good news you continue with your map.
10 minutes gameplay? Would you care to enlarge on that?

Vikom
Also, I'm gonna finish the map I've mentioned few weeks ago. It has a 10 minutes gameplay but you encounter sneaking, instantshelters, sniper battle, CQB and even dodging rockets while driving.


Vikom
Today, I've successfully finished high school.


eviltimes
Hi all!